Host A Screening Frequently Asked Questions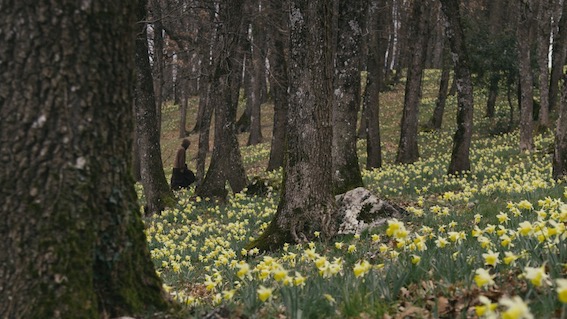 Introduction
Walk With Me will open in Theaters across the U.S. this summer. In order to bring this film to as many cities as possible, we are taking a unique approach to release the film by using a platform call Theatrical On Demand®, which allows anyone to host a screening in their local movie theater. It is really exciting as it does not cost anything to sing up to host a screening. Screening hosts ("Movie Captains") simply have to sign up to host a screening in their city and help us spread the word to get individuals to reserve tickets in advance.
If you have not already but would like to host a screening of Walk With Me in your city, click the button below and follow the instructions to request to become a Movie Captain of a Theatrical On Demand® screening.
Frequently Asked Questions
Since Theatrical On Demand is still a new approach to release a film we have assembled a collection of Frequently Asked Questions relating the hosting a Theatrical On Demand® screening of Walk With Me.
What is Theatrical On Demand®
Theatrical On Demand® allows individuals like you the opportunity to organize and promote films like Walk With Me in movie theaters across the country. You don't have to pay any screening room rental or exhibition fee. All you have to do is pick the theater and promote the screening to get people to reserve tickets.
How do Theatrical on Demand® screenings work?
Theatrical On Demand® screenings only take place if a minimum number of people reserve tickets before a screening expires. When enough people reserve tickets to a screening before time expires, the screening takes place. If the minimum number of reservations is not met, the screening does not take place and nobody is charged.
Each screening has its own web page where you'll find an update that shows you the number of current reservations, the number of additional reservations needed to tip the screening, as well as how much time remains before that screening request expires.
How do I reserve or purchase a ticket to a movie?
On the screening page, click the "RESERVE your ticket(s)" or "BUY" button. If the minimum number of tickets have not yet been reserved, you will be prompted to reserve a ticket by pre-authorizing your credit card but you will not be charged until the screening is given the Green Light.
Can I use my screening as a fundraiser?
You absolutely can! With our donation tool, we can help set up fundraising for any local non-profit, as long as they have official non-profit tax status. We can add an extra line-item in the checkout screen, giving people the option to donate alongside their ticket purchase.
What are the responsibilities of a Movie Captain?
As a Captain, we're counting on you to tell your community about the screening and direct people to reserve tickets. Remember: a screening can only happen if enough tickets are reserved in advance, so we need you to help spread the word.
What can I do to make my screening happen?
Simple, promote your screening. On your Movie Captain Dashboard, you can download the MC Toolkit – This toolkit has sample Facebook and Twitter posts, as well as email templates to local organizations and friends/family for you to use. Make sure to create a Facebook event for your screening as well. Be creative - the more ways you spread the word about your movie event, the more likely it will happen.
How do I create a Facebook Event for my screening?
Here's how:
On the left side of your Facebook page, click on "Events"
Click on "Create an Event"
Where it says "Name", write "Walk With Me Screening [Name of your city]"
Set the type of event to "Film"
In the "Tickets Field" copy and paste your screening link
Where it says "Details", feel free to add the synopsis of the film, the date/time/location of your screening and why you want to share it with your community.
What is the Movie Captain Facebook Group and how do I join?
The MC Facebook group is a place for all Movie Captains to communicate and share advice for tipping screenings. Once you sign up to host a screening, you will be sent an invite to join the group. You can also find the link to join the MC Facebook group on your Movie Captain Dashboard.
How many people on average are needed for a screening to tip?
The calculation is based on the costs we have to pay in order to make the screening happen. Each screening is a little different and as a result the thresholds vary. The average range is 50-75 people, though the number can always differ. The best way to check the minimum reserve number is to simply go to your screening link and see how many reservations are still needed.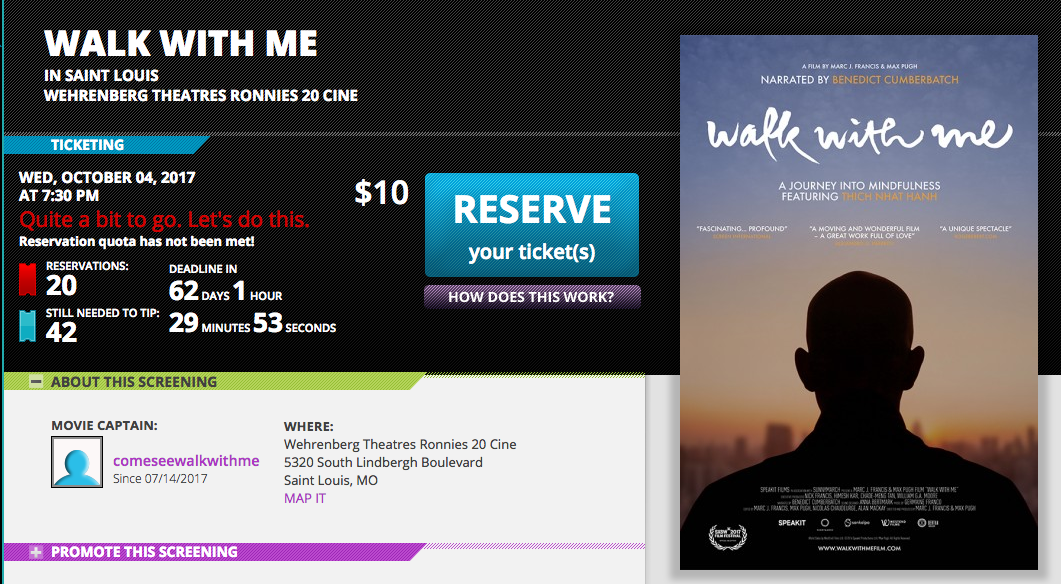 Do different theaters have different minimum number of tickets?
They absolutely do. The minimum number of tickets depends on what we have to pay the theater to be able to show the film.
Does it have to be a movie theater? Why? Can it be a local school, college, or performing arts theater?
For now, Walk With Me is only available via Theatrical on Demand®. Walk With Me will only be available in theaters for several months because the success of the film depends on how many people purchase tickets to screenings in theaters. Additionally, it would be unfair to people hosting ticketed screenings to have screenings that are free to the public competing with them, making it harder for the ticketed screening to be successful. We will update the Walk With Me website once Public Screening Licenses become available.
How many captains can there be for a screening?
As many as you wish! We encourage you to find co-captains to help you with the promotion of your screening. The more promotional power that you have behind the screening, the likelihood of you reaching your tipping goal is greatly increased.
How can I host a Q&A or Discussion at my screening?
When you first request to host a screening, make sure you select the "I would like more time for discussion or Q&A" option on the screening request form.
Will the Filmmaker be available to attend my screening?
Directors will not be available to attend Theatrical On Demand® screenings as they are based in Europe.
How much lead time do you recommend when choosing a date?
It's important that you allow yourself enough of a runway to promote and ultimately tip your screening. We recommend six weeks (between the time you request the screening and the actual day of the event).
How will I know if more than one person is trying to host in the same city?
If you go to the following link on the Walk With Me website ( http://walkwithmefilm.com/host-a-screening) you will see a map with dots all over it. Those dots are screenings scheduled across the country. If you enter your zip code in the map, you will be able to see if any screenings already exist in your area. You can then choose to either help that captain promote their screening, or request another screening of your own!
How do you add a theater in a small town you don't have on the map?
If there's a theater you had in mind but isn't showing up as an option, please email bookings@gathr.us with the venue name, and the preferred date and time that you wish to have for the screening. Our bookings team will do whatever they can to accommodate your request. However, if there is a theater listed on the screening request form in your city, we ask that you choose that venue. We have developed partnerships with thousands of theaters. At this point, if a theater is not listed as an option, there is a reason for it, and we probably can't screen the film there.
Can I preview the film in advance of screening it so that I can have a deeper understanding of the film, especially if I'm hosting a Q&A at the end?
Screeners of Walk With Me will be available upon request ONLY AFTER your screening has already tipped.
What if there are 2 screenings that are relatively close together? If there is not enough interest at one site can they be combined?
It depends on the Movie Captains and the proximity of the screenings. If the screenings are being held at the same venue, we highly encourage the captains to work together to sell out one particular screening. Just email Community@gathr.us if you would like to connect with another Movie Captain in your city and the Gathr Films team will connect you via email.
Will people be able to buy tickets at the door once the screening is Tipped?
This is rare and most theaters do not let people purchase tickets at the door to Theatrical On Demand screenings. However, your guests can purchase tickets online through the screening link right up until the film starts. They can then show their tickets on their phone to be admitted.
Is it possible to change theaters after tickets have been pre-purchased (say, if a larger theater is needed)?
The venue cannot be changed after a screening has tipped. Each time a screening gets close to selling out, we'll automatically look into larger auditoriums (at the same theater) for you. If a larger auditorium becomes available to us, we will update the screening page to show your new available seats. It may take 1-2 weeks for the theatre to approve the request.
Is the Movie Captain responsible for taking /scanning tickets for admission at the screening itself?
No. The theater attendant will be collecting the tickets and directing attendees to the appropriate auditorium.
What If I can't host a screening on September 12th?
Not a problem. While September 12 th is the first available date to host a screening, you can request any date beyond September 12 th that works best for your schedule.
Once people have reserved tickets and the tipping point is reached, will they receive automatic notices?
Yes. Once a screening has been given a Green Light, all guests of that screening will receive an email with their tickets included.
Do we FIRST go to the theatre and talk with the manager to see if they are interested? And THEN sign up as a captain? How does the captain interface with theater management?
The Captain does not interface with theater management at any time. Once you request to host a screening, our team will handle all of the logistics of your screening with the theater. All you have to do is promote your event!
On the Request A Screening form what does it mean next to a theater when it says "Screening Goes Live"?
Each theater has a different process for handling screening requests. We've provided our best estimation of the length of time it will take for your screening event opportunity to be confirmed. When confirmed, we'll provide you with your live event page so that you can get started sharing it.
How does the movie print physically get to a theatre?
Movie Theaters use a special file called a Digital Cinema Package. We create a Digital Cinema Package for each theater and once the booking is confirmed, our team will have the print sent to your theater several days before your event.
Who do I contact if I need additional information?
You can always email community@gathr.us for additional questions. We would love to answer your questions.