Walk With Me New York City Premiere: Schedule for the weekend of August 18th, 2017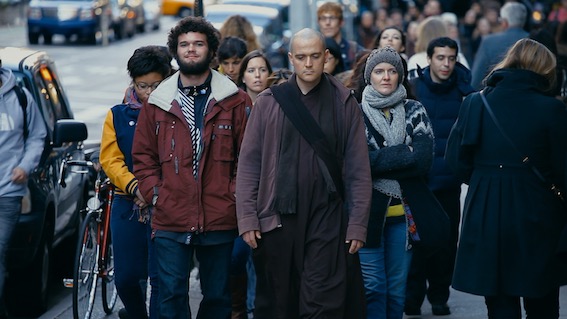 Br. Phap Linh leading a walking meditation in New York City.
Join us for a weekend of premiere screenings of WALK WITH ME at Rubin Museum featuring Q&As with directors Marc J. Francis & Max Pugh joined by monastics from the Plum Village Monastic Community.
FRIDAY
6.30pm
FIRST PREMIERE SCREENING with introduction and Q&A with directors Marc J. Francis & Max Pugh and joined by Sister Dang Nghiem from the Plum Village Monastic Community, hosted by Jo Confino (Executive Editor, Impact & Innovation, Huffington Post)
8.50pm
SILENT MEDITATION led by Plum Village monastics in the Spiral Lobby, Rubin Museum, open to first and second screening audiences
9.30pm
SECOND PREMIERE SCREENING with introduction from Jo Confino, the directors Marc J. Francis & Max Pugh and Sister Dang Nghiem
SATURDAY
10-10.45am
POP UP MEDITATION in Union Square led by Plum Village Monastics, open to all
10:45-11.15am
WALKING MEDITATION led by the monastics from Union Square to Rubin Museum, open to all
12.30-6pm
Opportunity to engage with the monastics at Rubin Museum galleries, open to all
2pm
SCREENING
3.40pm
SILENT MEDITATION led by Plum Village monastics in Spiral Lobby, Rubin Museum, open to 2pm and 4pm screening audiences
4pm
SCREENING
5.40pm
SILENT MEDITATION led by Plum Village monastics in Spiral Lobby, Rubin Museum, open to 4pm and 6pm audiences
6pm
SCREENING with introduction and Q&A with directors Marc J. Francis & Max Pugh joined by Sister Dang Nghiem, hosted by Jo Confino (Executive Editor, Impact & Innovation, Huffington Post)
SUNDAY
3-4pm
Opportunity to engage with Plum Village monastics in Cafe/Art Lounge, open to all
4pm
SCREENING
For information about additional screenings and to learn how you can host a screening of Walk With Me in your city visit http://walkwithmefilm.com/host-a-screening
For directions to Rubin Museum go to http://rubinmuseum.org/visit/plan